The Nanopatch™ Advantage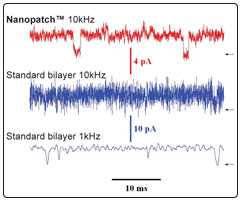 Performance of the Nanopatch™ versus a standard PLB system during cardiac Ryanodine receptor channel (RyR2) recordings. Open channels can be easily observed at 10 kHz on the Nanopatch™ system. At the same bandwidth, the standard PLB system is not able to resolve any activity. Filtering down to 1 kHz on the standard system reveals some activity, but the filtering strongly affects the shape of the channel openings. (All the recordings were obtained at room temperature, with Cs+ as the current carrier. The amplitude of the events obtained from the Nanopatch™ and standard systems vary due to an increased bias used).


EBS' Nanopatch™ system provides a number of significant advantages over traditional PLB systems:

Low noise and high bandwidth at a low cost
A semi-automated method for fast and reproducible bilayer formation
Robust bilayers with high voltage and pressure tolerance
Unique pressure control (useful for studying mechanosensitive channels)
Rapid temperature control (useful for studying temperature gated channels)
Integrated amplifier and data acquisition system
True desktop footprint that does not require vibration isolation tables or Faraday cages
With reusable QNMs, bundled temperature and pressure controls, and an integrated amplifier, the Nanopatch™ provides the greatest ease of use and the highest performance available at a very low price.

We are actively seeking early access customers to collaborate with us on investigating a wide variety of ion channels using the Nanopatch™ system. For more information, please contact us.

You can also download a product brochure here.